Finished Basement Flooring Products in Rhode Island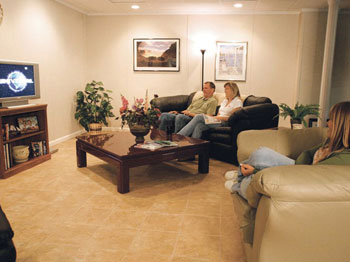 Options for basement flooring in Pawtucket, Woonsocket
While ceilings and walls in a home are usually a muted or neutral color, the floors rarely are. How you finish your floor will define the mood of the new space, and it can easily make or break the ambiance of a room.
A No dealer in area provides nine different finished basement flooring options-- all of which are designed to keep your basement warm, comfortable, and beautiful for many years to come.
Click on any of the pictures on our gallery below for more information on our available colors and designs for each of our available floorings.
Installing A Finished Floor in your Basement
Of all the surfaces in your home, your floor is the one you are in contact with most often. If you use inappropriate flooring in a basement environment, it will soak up cold from the concrete below, making your space uncomfortable underfoot. This is different from your naturally warm floors upstairs!
Since basements are vulnerable to humidity from the concrete below, it's important that your flooring will not be damaged by moisture. Organic materials like wood and carpeting will eventually grow mold, mildew, and rot.
Waterproof flooring options to meet your below-grade needs
A No dealer in area provides waterproof basement flooring that is designed specifically for the basement environment. For a free basement design quote, call or e-mail us today! We proudly serve Rhode Island, including and nearby.
Experience our full line of basement finishing products!
---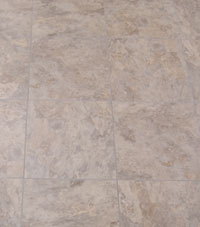 ThermalDry® Tiled Basement Floor Tiles
ThermalDry® basement floor tiles are engineered for basement environments. Unlike ceramic basement floor tiles, ThermalDry® basement flooring will never crack or shatter.
Available in Sandstone and Canyon Beige.
Advantages Over Stone, Ceramic, and Marble Tile:
---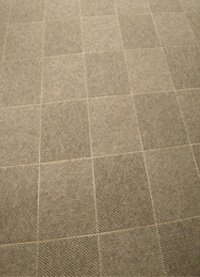 ThermalDry® Carpeted Basement Floor Tiles
Yes, you can safely carpet your basement floor. ThermalDry® carpeted floor tiles are designed to keep your basement floor warm, dry and beautiful. Unlike traditional wall-to-wall carpeting, damaged or worn tiles can easily be replaced. Available in Mocha, carpet tiles can be laid with a horizontal grain, or a mix of vertical and horizontal grains for a textured checkerboard pattern effect.
Available in Mocha design.
Waterproof design will not support mold, mildew, odors, or rot
Floating floor does not glue or adhere to basement floor
Unique tiled design installs with no need for a subfloor
---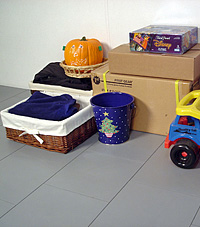 ThermalDry® Basement Sub Floor Matting
ThermalDry® basement sub floor matting is perfect for homeowners who want to install custom carpeting in their finished basement. By installing this underneath your carpeting, you protect it from humidity from the concrete below.
Advantages over wood subflooring:
---
Looking for a price? Get a no cost, no obligation free estimate.