Energy Efficient Basement Finishing Products In Rhode Island
Green basement renovation in Providence, Cranston, Warwick
TBF Green Remodeling
R-13 Wall Insulation
Low-E Glass Windows
Wallboard is 95% Recycled
HCFC Blowing Agents
Used: 94% Less Ozone Depleting
ENERGY STAR® Rated Dehumidifier
No Drywall or Fiberglass
No Formaldehyde
Does Not Support Mold
Outlasts Other Products
Remodel your Basement for a More Comfortable, Energy Efficient Home
Green home remodeling is good for the environment, and it's great for you. Along with helping keep your carbon footprint to a minimum, a green, energy-efficient home will be much more comfortable. And along with that, you'll be saving hundreds of dollars each year!
A No dealer in area is a certified installer of the Total Basement Finishing basement remodeling system -- green products that will last you a lifetime. We offer free quotes throughout the Rhode Island area, including and many areas nearby. Call or e-mail us today to get started!
How Common Basement Finishing Products Measure Up
Gypsum Drywall Facts:
Gypsum used for drywall is taken from shallow, open-pit mines. It creates 25% of the debris in construction. 17% of drywall is wasted during installation, and none of it is cost-effective to recycle.
With landfills filling up with drywall and more shallow gypsum mines eliminating swaths of wildlife, we know that drywall is far from a green remodeling material. In landfills, drywall adds toxic sulfate to the water and emits a rotten egg smell. In your basement, damp drywall will also support mold growth as it rots in the humid environment, contributing to home allergens.
Specialized materials such as fiberglass insulation, according to Denver AIA committee on the environment, are not readily recyclable, nor are they in high enough demand to be cost-effective when produced widely. And while fiberglass is inorganic, the dyes, paper backings, and resin used in their design can easily grow mold when subjected to basement humidity.
It's becoming increasingly clear that there has to be better products for basement remodeling-- and those products are the Total Basement Finishing System.
Green Basement Finishing Products
We'd like to share with you just a few reasons that our basement finishing system is the greenest system on the market! Click on the images below to learn more.
The Best Green Basement Remodeling in Rhode Island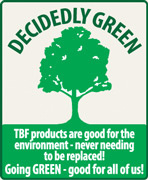 Energy Efficient, recyclable, long-lasting, responsible manufacturing: The Total Basement Finishing line of remodeling products is the green basement finishing answer you've been looking for!
A No dealer in area would like to provide you with a free estimate and 90-page full-color book, "Basement Finishing Science", to help you design a long-lasting, healthy, and beautiful new space in your home. A copy of this book is available with every free basement quote they provide.
Each finished basement installation includes a written warranty and the backing of the Total Basement Finishing network of basement finishing contractors.
To get started with a free, no obligation basement remodeling estimate, call us or send them an e-mail today!
A No dealer in area proudly serves Rhode Island, including and nearby.
Looking for a price? Get a no cost, no obligation free estimate.