Reasons to Remodel Your Basement With A No dealer in area
Don't settle for second best when remodeling a basement in Rhode Island!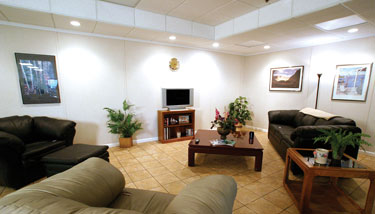 Many remodeling contractors who "also" take on basement remodeling projects have to use standard, off-the-shelf materials like wood studs, fiberglass insulation, plywood and gypsum board. These materials easily succumb to moisture damage. They also provide an ideal habitat for mold that can cause allergic reactions and respiratory ailments.
To make sure your basement remodeling project is done right the first time, go with the basement experts. Basement Systems has completed thousands of "dream basement" transformations across the U.S., Canada and the United Kingdom.
Four Great Reasons to Remodel Your Basement
No moisture, no mold, no problems. With over 20 years of basement waterproofing and dehumidification experience, Basement Systems has the best products and techniques available for keeping your basement dry. What's more, our finishing products (wall panels, flooring, molding, ceiling tiles and more) are waterproof and won't support mold growth. When you combine the best moisture control techniques with moisture and mold-resistant materials designed specifically for basements, you've got the best formula for a beautiful, long-lasting basement transformation.
Inexpensive extra space. Remodeling your basement is an excellent way to exploit the space you already have. A basement remodel adds a floor of quiet, private space for a fraction of what you'd pay to build an addition. And unlike an addition, basement remodeling won't diminish the size of your yard.
Excellent return on investment. Finishing all or part of your basement is a surefire way to increase the value of your house. A basement remodel ranks right up there with kitchen and bath remodeling in terms of improving a home's resale value.
Energy savings. Many unfinished basements have too many air leaks and too little insulation. As a result, the basement can waste energy and compromise the comfort of upstairs living space. Adding insulation and super-efficient windows in the basement will improve your home's comfort while saving money on heating and cooling costs. There's a bonus for upgrading your basement's energy efficiency: You may qualify for rebates for certain energy upgrades.
Find out more about our innovative Basement Finishing Components that we use. A No dealer in area serves Pawtucket, Woonsocket, as well as .
Looking for a price? Get a no cost, no obligation free estimate.